Celebrating the P&OML Cyprus Team following successful HMS Queen Elizabeth Operation
The P&O Maritime Logistics team in Cyprus had to face one of its biggest logistical challenges yet when on the 29th of June 2021, the "HMS Queen Elizabeth" arrived at DP World Limassol. The port was selected as one of the few global destinations that the aircraft carrier was due to visit on its world tour.
The team worked closely with its partners, the UK Ministry of Defence and the UK Naval Head Quarters, during a full year of preparations. This included planning the pilotage and towing operation of the HMS Queen Elizabeth, with meetings taking place right up until a week before the ship's visit. Every detail of the operation had been considered, with all potential risks analysed and recourses and assets adapted for the visit.
In total, six tugs were mobilised in securing the safe approach and maneuvering of the vessel. This was a challenging logistical operation which required a great deal of planning and preparation, and thanks to the precise execution of the team, it was completed smoothly.
Captain Esseneigh, Royal Navy Commanding Officer, gave thanks to the assistance that the Cyprus team in a written letter to Christos Pagidis, General Manager of the P&O Maritime Logistics Cyprus team.
He said: "This successful visit has set the conditions for many years of close co-operation between HMS Queen Elizabeth and the Port of Limassol…. we departed with extremely fond memories…especially of friends made and the wonderful support we received."
The Captain's official letter in full: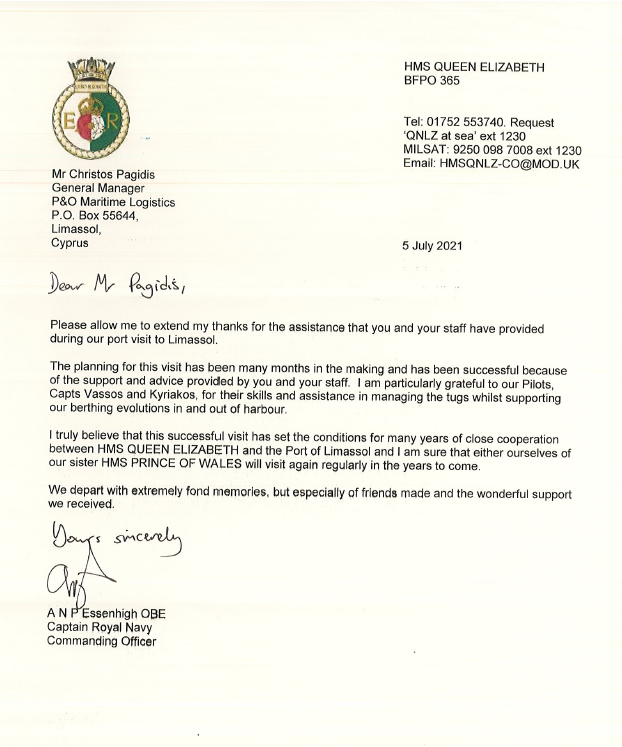 The team succeeded in accomplishing what was a challenging operation, alongside building trust amongst other UK aircraft carriers who now see DP World Limassol as a "port of call".
P&O Maritime Logistics take pride in going the extra mile for clients, and this is just one example of providing exemplary marine services.