P&O Maritime Logistics takes possession of new bespoke vessels designed to support copper export in Papua New Guinea
23 October 2022
P&O Maritime Logistics used deep expertise on the Fly River to design and build two new vessels that support the export of key resources such as copper
Investment in new vessels by P&O Maritime Logistics represents extension of its partnership with Ok Tedi Mining Ltd
Two new 5,400 DWT Bulk and Container vessels entered service in September and October 2022
Continuation of P&O Maritime Logistics' investment in the growth of the Papua New Guinean economy and supporting local communities over the last 30 years
Dubai, UAE / Port Moresby, PAPUA NEW GUINEA, 23 October 2022: P&O Maritime Logistics, a leading provider of maritime services globally, has taken delivery of two new bespoke vessels designed specifically to service Ok Tedi Mining Ltd (OTML) in Papua New Guinea (PNG).
Operating on the Fly River and in the Gulf of Papua, P&O Maritime Logistics' new vessels work between Kiunga and Port Moresby to transport mainly copper concentrate for export – a key ingredient in developing renewable technology and in urbanisation.
The movement of copper concentrate from the Ok Tedi Mine to Port Moresby – which requires specialist vessels and navigational expertise – is a key link in the supply chain which helps enable OTML's significant contribution to the PNG economy. With no road or rail links to the mine, P&O Maritime Logistics has been a long-term partner in enabling the development of the mine, servicing the route since the late 1980s.
By leveraging the company's deep experience in navigating challenging marine environments, P&O Maritime Logistics designed and built the two new 5,400 DWT Bulk and Container vessels, in partnership with Wartsila Ship Design and Fujian Mawei Shipbuilding Limited, to improve cargo lift, whilst also meeting the unique environmental requirements with a low wake profile to ensure that the communities and ecosystems on the river are not impacted by the ships' operations.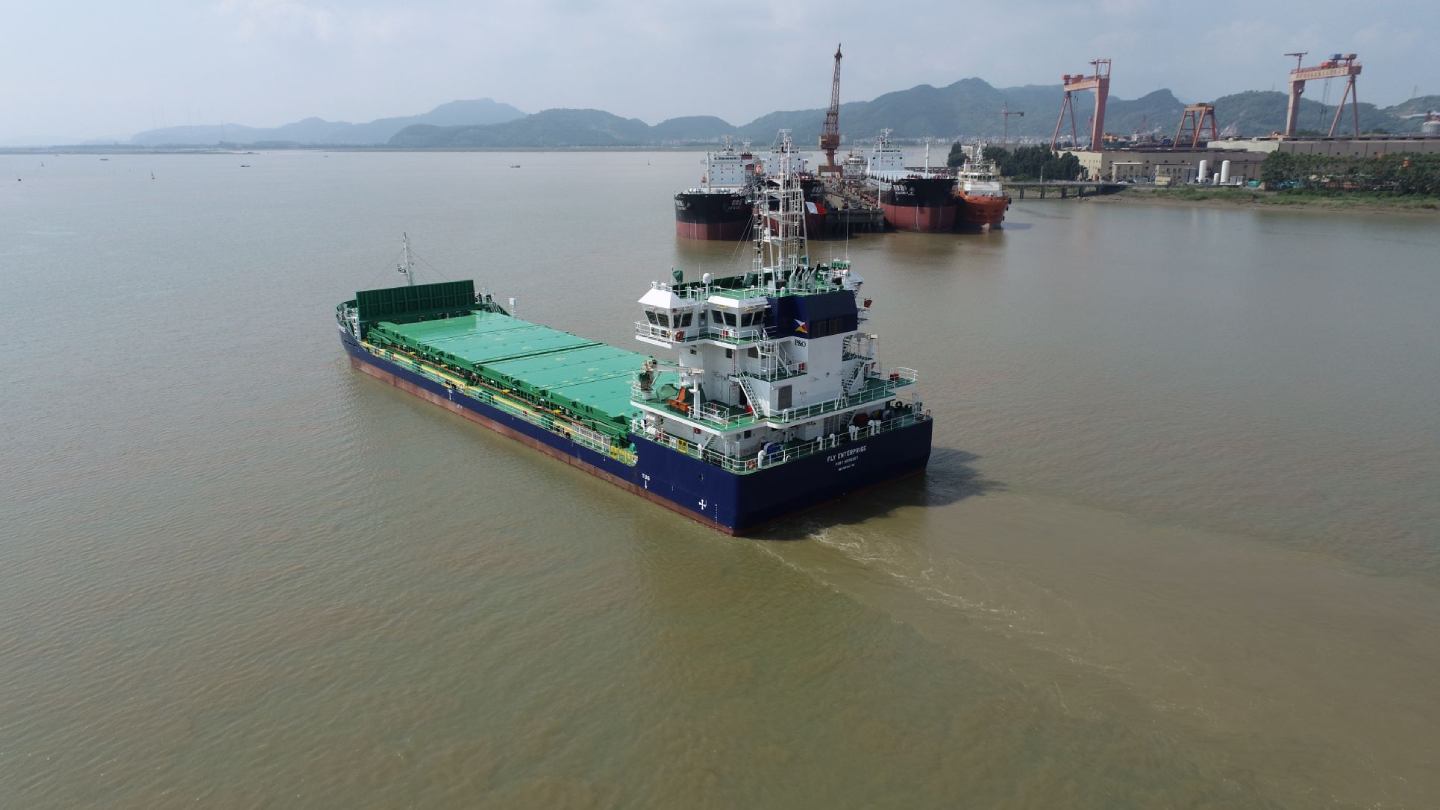 P&O Maritime Logistics was uniquely placed to offer this design because of its knowledge of the river conditions, its collective experience as a leading operator in the sector, and its integration with the OTML supply chain – meaning that it had a specialist understanding of the design and output requirements for the vessels, and the needs of its customer.
The addition of the two new vessels represents an extension of P&O Maritime Logistics and OTML's long-term partnership – where the Dubai-based maritime services company continues to leverage its expertise to bring value and efficiency to operations while investing in the success of the Ok Tedi Mining operation. The addition of the vessels brings the number of dedicated vessels that P&O Maritime Logistics' operates in support of OTML to 11.
The company took possession of the two new vessels in September and October respectively, with the MV Fly Enterprise and MV Fly Valiant being welcomed with a ceremony upon arrival.
Martin Helweg, CEO of P&O Maritime Logistics said: "The new vessels are part of our long-term commitment to working with Ok Tedi Mining, where we are able to bring out expertise to transporting copper concentrate and general consumables through complicated marine environments such as the Fly River."
"We are continually striving to maximise the outcomes for our customers, demonstrating how we are leaders in transforming our industry by focussing on bringing value through our expertise, operational excellence and willingness to break the mould in order to create new and better solutions. Our new vessels built and customised for operating on the Fly River are a testament to this approach: we put our customers first and invest in their success."
Musje Werror, Managing Director and CEO of OTML said: "The Ok Tedi Mine is located in a remote and challenging location, and it is important that we work with competent and credible partners to support our operations. P&O Maritime Logistics is one of our long serving partners who have brought their long-term expertise to build the right solution to moving our copper concentrate from the Port of Kiunga down the Fly River in an efficient and environmentally conscious way to our silo vessel located in Port Moresby. It also provides the opportunity for more cadets from Western Province to get seat time training under P&O Maritime Logistics. We look forward to continuing this partnership with the addition of the new vessels to the fleet."
With over 30 years of operational history in Papua New Guinea, P&O Maritime Logistics has supported enabling economic growth through the mineral industry and has invested in localisation of its workforce.
P&O Maritime Logistics sponsors young seafarers through the PNG Maritime College, after which it offers cadet positions aboard state-of-the-art vessels, and it offers overseas training opportunities for its PNG staff base. This provides PNG residents with additional opportunities in the maritime sector and for exposure to new cargo opportunities – such as in Australia.
With well over 200 employees in the country, 96% of onshore and offshore employees are from Papua New Guinea and the new ships will grow the company's local employee base offering good quality jobs.