Mammoet partners with P&O Maritime Logistics for marine transportation of prefabricated villas for a luxury Red Sea resort
08 February 2023
P&O Maritime Logistics has signed a new contract with Mammoet to support the shipment of Red Sea Global (RSG) villas from the UAE to Saudi Arabia
P&O Maritime Logistics will support the Kingdom's 2030 Vision, which will diversify the Saudi economy and feature low environmental impact projects
P&O Maritime Logistics will use its MCV fleet as an efficient method for carrying the orbs, a superior solution to slower and less consistent tug and barge operations
Dubai, UAE – 7 February 2023: P&O Maritime Logistics, a leading provider of critical logistics and marine solutions, will use its versatile Multi Carrying Vessel (MCV) fleet to transport off-site manufactured pre-finished volumetric hotel villas to the Sheybarah Island Resort on Saudi Arabia's Red Sea Coast.
P&O Maritime Logistics has signed a new contract with global heavy lifting and transport specialist Mammoet to transport the unique hotel villas, all the way from Hamriyah to the Sheybarah Island Resort.
The two companies are supporting Red Sea Global in its ambitious project, which champions regenerative tourism and sustainable development in the Kingdom.
The Sheybarah Island Resort is a cornerstone project and part of the Saudi 2030 vision and will consist of a total of 73 uniquely shaped and prefabricated villas, some of which will hover above the island's diverse ecosystem. The stainless-steel orbs were conceptualised by Oppenheim Architecture, based in Miami and designed by Killa Design, the same designers of Dubai's Museum of the Future, promising a unique experience for guests when the resort opens. With mangroves, beaches and coral reefs, the resort will utilise the latest sustainable and eco-friendly technologies to preserve and enhance the local environment.
The MCVs selected for the project were serviced in drydock facilities before the contract in order to limit their possible impact on local marine life – and their ballast systems were filled with water from the Red Sea to reduce the chance of introducing foreign organisms. Additionally, the shallow draft of MCVs and with the versatile thruster arrangement used on P&O Maritime Logistics vessels mean that there will be minimal disturbance of the shallow seabed.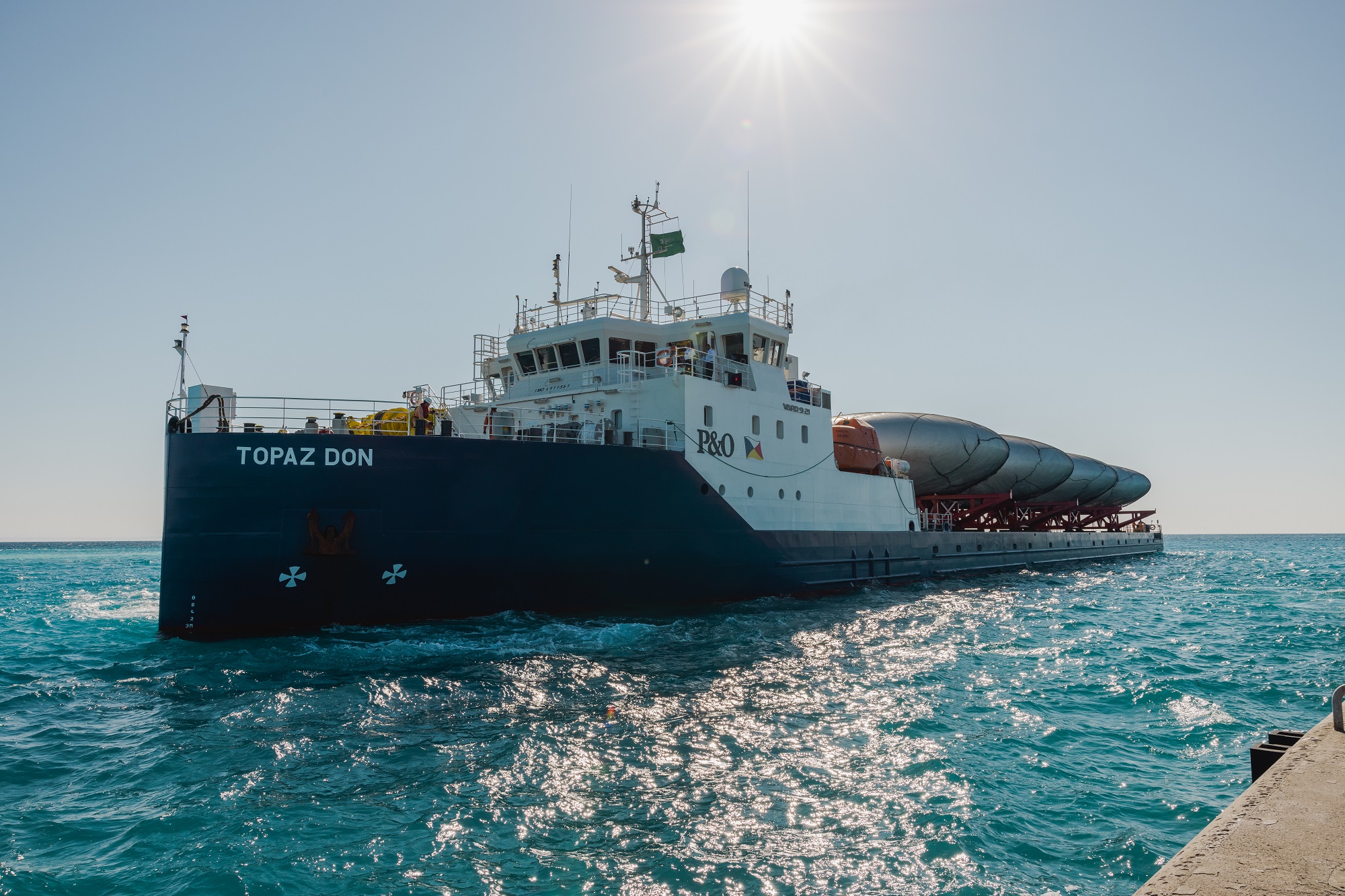 Additionally, The MCVs' shallow draft makes them an ideal vessel for accessing areas where larger ships are unable to fit due to their size. The MCVs have the unique ability to allow efficient and timely delivery to site using the just-in-time principle, with minimal congestion for the production facility and project site, delivering a cost-effective customer solution.
Martin Helweg, CEO of P&O Maritime Logistics, said: "As a company headquartered in Dubai, we regularly operate in the Red Sea and around the Middle East. It is particularly exciting that our MCV fleet has been so successful in this region on a variety of projects."
P&O Maritime Logistics, a subsidiary of DP World, recently chartered a new route between the Port of Jeddah and Port Sudan, where its MCV fleet is carrying containers across the Red Sea for the first time, brining additional volumes and reducing waiting times for main line carriers.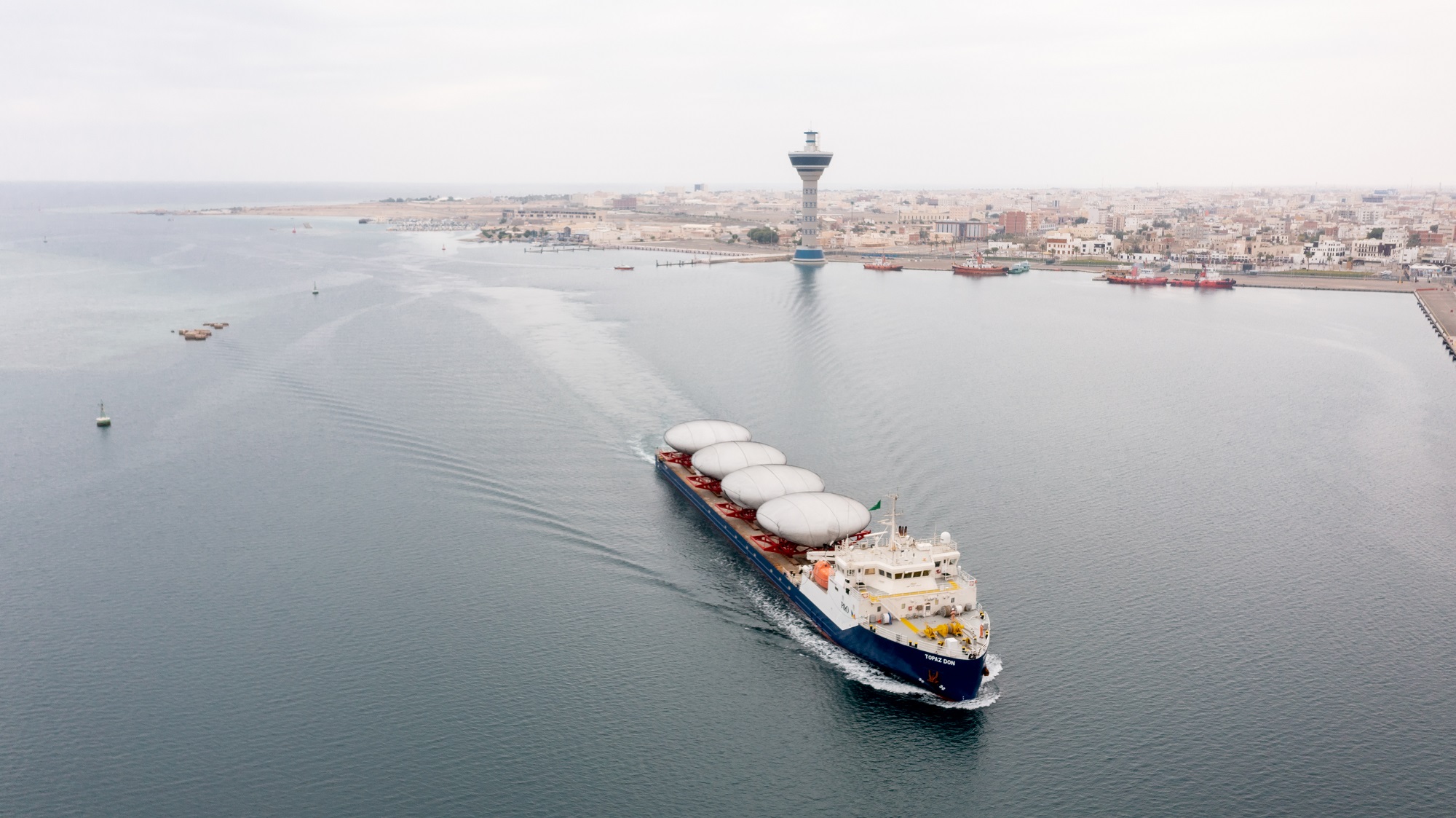 Helweg continued: "We are also delighted to be supporting Mammoet in the development of the Sheybarah Island Resort, as part of Red Sea Global's Red Sea mandate. Sustainability is at the heart of our business, and transporting the villas is just one example of how we are increasing our capacity for projects that promote sustainable development."
P&O Maritime Logistics owns and operates 400 vessels worldwide, providing a wide portfolio of value-add services to customers.  Guided by DP World's industry-leading approach to sustainability, P&O Maritime Logistics supports its customers in building a more sustainable future by creating flexible solutions and ensuring both operational efficiency and excellence.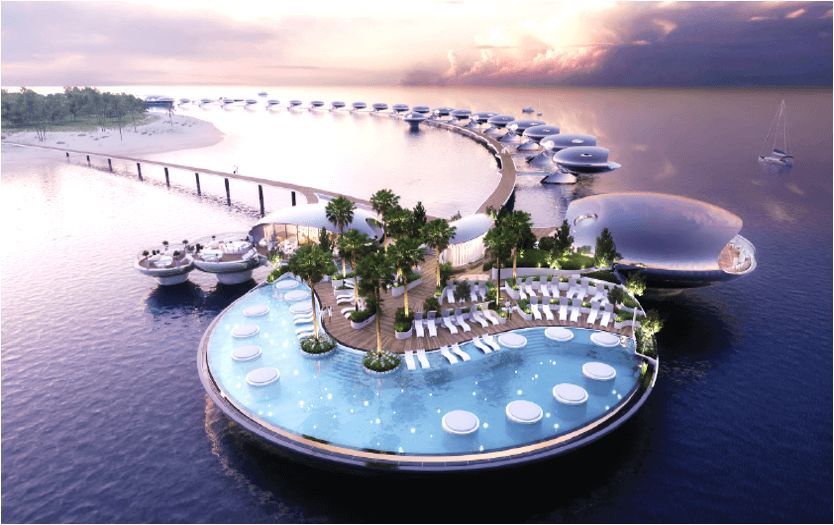 Jad Ayoub, Project Director for Mammoet said: "We are pleased to have P&O Maritime Logistics supporting us with the shipment of villas for the Sheybarah Island Resort. We have selected P&O Maritime Logistics for its vessels with shallower drafts that will have minimal impact on the sensitive marine environment of the Red Sea. With Mammoet's ongoing commitment to sustainability and sustainability being the vision for the project, it was crucial to partner with a company that ensures their operations and values are aligned with ours."
Earlier this year Mammoet has been appointed by Red Sea Global for the transport and installation of the villas for Sheybarah Island Resort.
P&O Maritime Logistics is continuing to modify and utilise MCVs across their operations globally.
For media enquiries, please contact:
P&O Maritime Logistics/DP World
Edelman UK at [email protected]
Red Sea Global
Rebecca Cousins, Director, PR & Communications: [email protected]
About P&O Maritime Logistics
P&O Maritime Logistics is a leading provider of marine solutions with a focus on offshore energy, port services and logistics. The company owns and operates approximately 400 vessels and provides a wide portfolio of value-added marine services and the ability to integrate these offerings for its customers – always with safety and the environment at the forefront.
Headquartered in Dubai, the company has operations globally across all seven continents.
www.pomaritime.com
About DP World
We are the leading provider of smart logistics solutions, enabling the flow of trade across the globe. Our comprehensive range of products and services covers every link of the integrated supply chain – from maritime and inland terminals to marine services and industrial parks as well as technology-driven customer solutions.
We deliver these services through an interconnected global network of 127 business units in 51 countries across six continents, with a significant presence both in high-growth and mature markets. Wherever we operate, we integrate sustainability and responsible corporate citizenship into our activities, striving for a positive contribution to the economies and communities where we live and work.
Our dedicated, diverse and professional team of more than 56,000 employees from 134 countries are committed to delivering unrivalled value to our customers and partners. We do this by focusing on mutually beneficial relationships – with governments, shippers, traders, and other stakeholders along the global supply chain – relationships built on a foundation of mutual trust and enduring partnership.
We think ahead, anticipate change and deploy industry-leading technology to create the smartest, most efficient and innovative trade solutions, while ensuring a positive and sustainable impact on economies, societies and our planet.
www.dpworld.com
About Mammoet 
Mammoet helps clients with Smarter, Safer and Stronger solutions to any heavy lifting or transport challenge. We aim to develop long term client relationships in order to understand their businesses and challenges best, so we can realize the most efficient and cost-effective approaches. We have a unique global network and an unparalleled fleet of equipment. Through deep and longstanding engineering expertise and the highest quality and safety standards in execution we bring an intelligent and flexible approach to projects across a wide breadth of industry sectors. Clients trust us to help them achieve feats that were once considered impossible, and we have often broken records in doing so.
About Red Sea Global 
Red Sea Global (RSG – www.redseaglobal.com) is a closed joint-stock company wholly owned by the Public Investment Fund (PIF) of Saudi Arabia.
RSG is a global multi-project developer, seeking to lead the world towards a more sustainable future, showing how responsible and regenerative development can uplift communities, drive economies, and enhance the environment.  The protection of natural capital is central to all development decisions, as the organization seeks to create a better future for all.
A cornerstone of Saudi Arabia's Vision 2030 ambition to diversify its economy, RSG is playing a key role in transforming the nation, by creating exciting opportunities for young Saudi talent and the private sector, as it develops built assets and destinations across multiple sectors that make a positive impact for people and planet.
RSG is the visionary company behind some of the world's most ambitious development ventures, including luxury regenerative tourism destinations such as The Red Sea and AMAALA.
Across its portfolio, RSG leverages the most innovative concepts, strategies, and technologies to deliver projects that actively enhance the wellbeing of customers, communities, and environments.